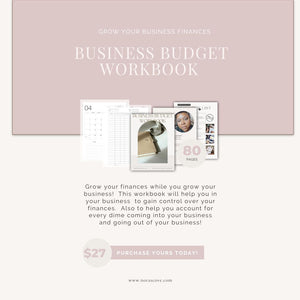 BUSINESS BUDGET WORKBOOK (DOWNLOAD)
THIS IS A DIGITAL DOWNLOAD
This workbook was created with entrepreneurs in mind.  
This workbook is to help entrepreneurs on their journey to make more money and help them to keep track of every cent spent in their business.
This workbook can be used in the good notes app or any digital book form.  
Whats inside:
Workbook cover page
Introductory page
Finance quote dashboard
Resource page
Business Goal page
12 budget pages
12 monthly calendars(1 page each)
12 Expense trackers 
12 Expense breakdown sheets( breakdown different areas of expense)
10 Inventory and Profit sheets
11 Daily Sales Log Sheets
6 Notes Pages 
*If you need more of one page you can always duplicate a page in your good notes app.*
If you have any issues downloading your purchase please feel free to contact us.
---
We Also Recommend